Facial feminization surgery is known as a series of procedures that make cosmetic modifications to an individual's facial appearance. And while facial feminization surgery is typically associated with transgender or non-binary individuals, it's also popular among cisgender women.
For women who feel they have masculine facial features and are seeking a more feminine appearance, FFS procedures can enhance those features. If you are someone who feels your forehead is too broad, or nose is too sharp, or overall just feel like your facial features are too "masculine," you might be a candidate for FFS.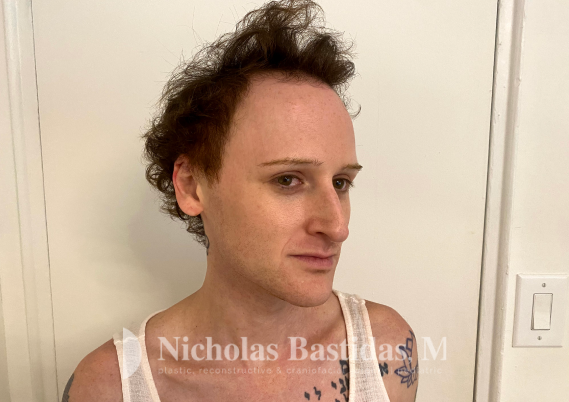 Common Facial Feminization Procedures for Women
During your consultation, Dr. Bastidas will listen to your concerns regarding your facial appearance and outline a specific treatment plan of areas to address to obtain the appearance you desire. Below are some examples of the most common areas targeted to achieve a naturally feminine appearance:
Adam's Apple Reduction (Tracheal Shave)

A thinner, more flat throat is achieved by reducing the size of the signature adam's apple.

Forehead Reduction and Contouring Surgery

The forehead slope is reduced to represent a more feminine vertical line and the forehead area around the eyes is softened.

Brow Lift (Browplasty)

Feminine eyebrows tend to sit higher on the face with a slight arch on the sides. Therefore, eyebrows can be lifted to enhance the feminine aesthetic. A feminine brow should lie above the brow bone (supraorbital ridge).

Hairline Lowering Surgery

The overall hairline is lowered, providing patients with a softer, more feminine (and youthful) face.

Cheek Enhancement (Augmentation & Reduction)

Depending on the current appearance of your cheeks, cheeks can either be enhanced to create a more full shape, or reduced to create a more narrow width.

Jaw Contouring (Reshaping or Tapering)

The jaw is shaped to create a more delicate, round shape.

Chin Recontouring (Genioplasty)

Depending on the specific shape of your chin, chin recontouring can include reducing, reshaping, or augmenting the shape and size.

Lip Lift and Lip Filling

The lips can be filled, lifted at the corners of the mouth, or reduced in the upper lip area.

Feminizing Earlobe Reduction

Earlobes are enhanced for a more symmetrical, feminine appearance.

Rhinoplasty (Nasal Surgery)

Also known as a nose job, a feminine nasal tip is sculpted to create a more angular, refined appearance.
What To Expect After Your FFS Procedures
Patients can expect to have a facial appearance that is more feminine, helping them to feel more at home in their skin. The complete recovery period for FFS procedures takes one full year, but the majority of healing takes place within the first 6 weeks following the procedure.
Dr. Bastidas and his team will schedule any necessary follow-up appointments with you, and will guide you through the recovery period. Most patients return to work 2 weeks after their FFS procedure. It's during this time period that patients can also begin to slowly incorporate their normal activities back into their daily routine.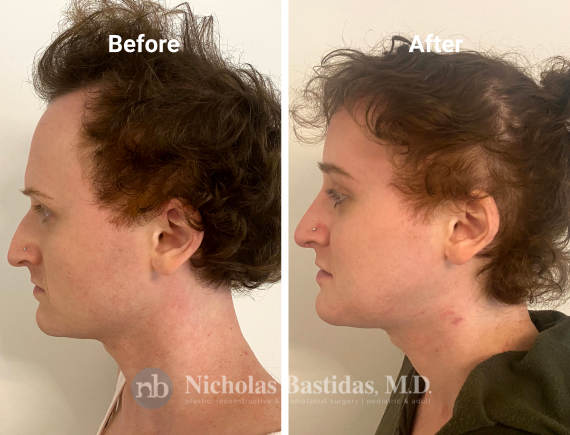 Facial Feminization Surgery with Dr. Bastidas
Dr. Bastidas is a leading surgeon of Facial Feminization Surgery in NYC and has been performing FFS procedures for more than a decade. He is an active member of the Center for Transgender Care at Northwell Health and incorporates the latest 3D virtual planning technology into every procedure. Dr. Bastidas is also a board-certified plastic surgeon who is fellowship-trained in craniofacial surgery and the Director of the Advanced Facial Trauma and Reconstruction Program at North Shore, Manhasset.
His years of experience result in a multi-disciplinary approach with an aesthetically pleasing feminine appearance that looks natural.
For facial feminization surgery, call Dr. Nicholas Bastidas.
Schedule an appointment at our
New York, NY, office at (212) 485-0616.
Facial Feminization Surgery: FAQs
The below questions are some of the most commonly asked questions we receive from patients. If you have additional questions, please feel free to contact us.