Ear Reconstruction Surgery with Allograft Rib Cartilage (Real-Ear technique)
For children with small or absent ears (Microtia), or adults with ear abnormalities (from cancer or trauma), Dr. Bastidas has created a world-renowned technique that utilizes the advantages of similar methods to create the perfect ear. His technique combines the benefits of the traditional Rib Ear Reconstruction and Medpor Reconstruction techniques.
Dr. Bastidas uses cadaveric cartilage to reconstruct the ear, which has no significant risk of rejection and is completely safe. This allows Dr. Bastidas to reconstruct an ear starting age 4 or 5 years old, without implants, without need for a scar on the chest, without significant pain, and as a 2-hour outpatient operation. Additionally, the reconstructed ear will have sensation and will be resistant to infections and blunt trauma in the future (unlike prosthetic ears).
Dr. Bastidas can sculpt your new ear using cadaveric rib cartilage from the Musculoskeletal Tissue Foundation (MTF) and implant the construct allowing for real cartilage to be used in your ear reconstruction or your child's ear reconstruction.
This option was previously unavailable to adults, as their cartilage calcifies and gets hard with time and therefore can not be sculpted. With Dr. Bastidas' technique, ears lost from cancers, traumas, or birth defects in both adults and children can be reconstructed without any issue.
Previous methods required children to wait for the procedure until they were older (8-10 years old), causing psychological stress during the formative years. In addition, the surgeries could lead to hair loss, involve painful procedures, and require long hospital stays.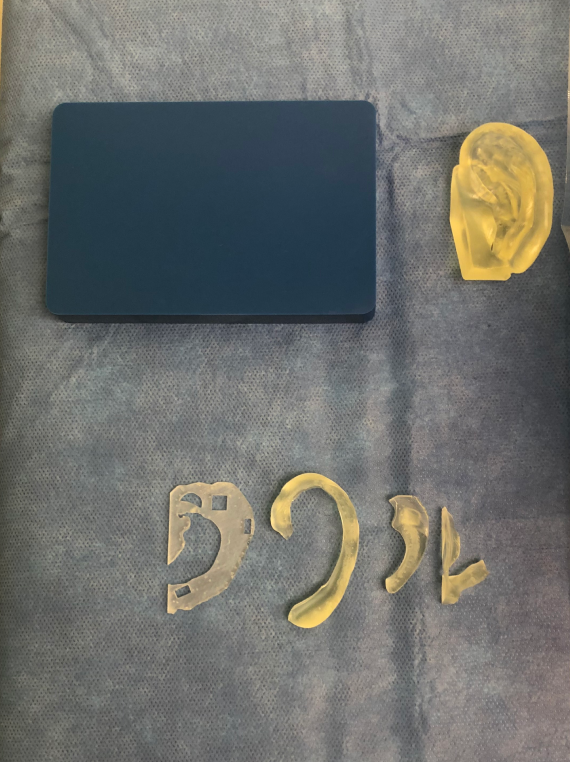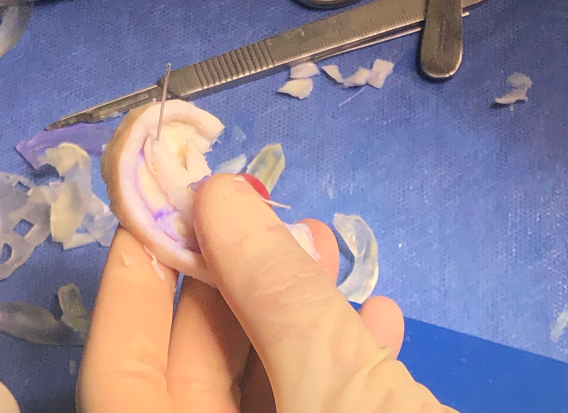 With Dr. Bastidas' Real-Ear Reconstruction technique:
Real cartilage is used to reconstruct the ear (no medpor / plastic is used)
There is minimal pain (only Motrin and Tylenol are needed) - children can go to school in 2 days
The outpatient procedure lasts less than 2 hours (minimal anesthesia exposure)
Ears can be reconstructed as early as age 4
Both adults and children can benefit from the reconstruction
In August 2020, Dr. Bastidas performed the world's first non-immunogenic biologic ear reconstruction using processed cadaveric cartilage from the Musculoskeletal Tissue Foundation. Patients come from around the world to receive reconstructive treatment from Dr. Bastidas.
What To Expect: Ear Reconstruction Surgery / Microtia
Preparation for Ear Reconstruction:
During the initial consultation with Dr. Bastidas, he will evaluate the ear abnormality and explain the reconstruction technique in detail. He and his team will answer any questions and ensure patients have a full understanding of what to expect during the procedure and from treatment. Patients will be notified if there are any medications that should be avoided prior to the surgery. In addition, he is now offering virtual consultations for out of state and international patients. A 3D CT scan will be obtained to use for virtual and specific creation of your customized reconstructed ear.
Ear Reconstruction and Microtia Surgery
The procedure will take less than 2 hours and is outpatient (you can go home the same day). General anesthesia is used, though minimized using local anesthesia. Dr. Bastidas uses cadaveric rib cartilage processed by the Musculoskeletal Tissue Foundation (MTF) to sculpt the ear and implant the construct. This allows for real cartilage to be used in your ear reconstruction or your child's ear reconstruction.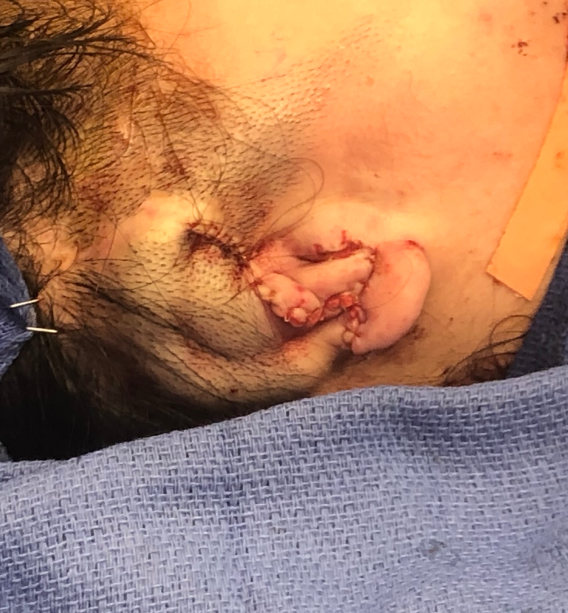 After Ear Reconstruction Surgery
Patients only need Motrin or Tylenol for post-op pain relief. Typically, the reconstructed ear will be swollen and will need to be covered for approximately 7 days with a silicone putty. Patients can often return to work or school within 2 to 3 days but are restricted from contact sports for 3 to 4 weeks.
Follow-up appointments will be scheduled for patients to meet with Dr. Bastidas during their recovery period to ensure proper healing is taking place.
Dr. Nicholas Bastidas' Expertise in Ear Reconstruction and Microtia Surgery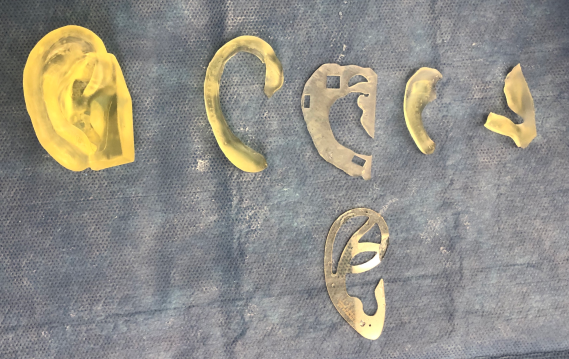 Dr. Nicholas Bastidas has been providing microtia-related surgical interventions and similar ear reconstruction procedures since 2005. His experienced, gentle approach can correct the ear problem, and ensure your child has the best chance to thrive as they grow. Traditionally, he has used both rib and medpor based ear reconstruction techniques before developing his "Real-Ear" technique.
Dr. Bastidas is a Board Certified Plastic and Reconstructive Surgeon who specializes in the treatment of Microtia and ear abnormalities. He is a native New Yorker and is fluent in both English and conversational Spanish. As a graduate of the prestigious New York University (NYU) Medical School, he received his Medical Doctorate (M.D.) with distinguished honors in cell biology research after defending a thesis on vascular stem cell biology. He was then accepted into the NYU combined Plastic Surgery program (an accelerated six-year residency) where he performed reconstructive and aesthetic surgery at NYU Langone Medical Center, Bellevue Hospital, and Manhattan Eye and Ear Infirmary.
To date, he is the recipient of four research grants, including one from the National Institute of Health. He is the author of over 31 peer-reviewed publications and has presented his research at national and regional plastic surgery meetings.
For compassionate, state-of-the-art cleft repair care for your child, call Dr. Nicholas Bastidas.
Schedule an appointment at our New York, NY, office at (212) 485-0616