Complete recovery from facial feminization surgery takes approximately one full year, but most patients feel great after 2-3 weeks. A significant amount of healing takes place within the first 2 to 6 weeks following surgery and swelling typically improves in a top-down fashion (forehead to chin). Patients can often maintain social commitments and return to work typically 2 weeks after the initial surgery date. The exact amount of time it takes for a patient to fully recover will depend on their overall health, medical history, and the specific gender-affirming procedures that were performed.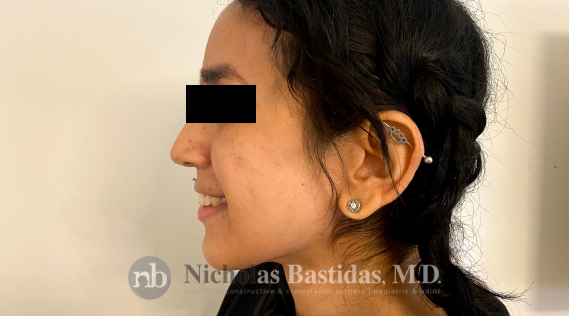 FFS General Recovery Stages
When patients leave the facility following their procedure, Dr. Bastidas and his team will provide detailed post-op instructions for care and recovery. The goal is to help patients heal properly and have minimal levels of discomfort.
The exact recovery time will vary for each patient, but it generally occurs in the following stages:
24 to 48 Hours Following Surgery

In the first one to two days following surgery, patients will need to have a primarily liquid diet, with soft food slowly being incorporated into the diet after this period. FFS patients stay in the hospital overnight for observation and comfort control during this time period. A surgical drain is removed prior to discharge and the bandages are changed.

1 to 2 Weeks Following Surgery

Patients are often prescribed medications to help with any pain for up to 1 to 2 weeks or longer following surgery. It's typically recommended patients take Extra Strength Tylenol, Ibuprofen, or a similar over-the-counter medication. Which medications a patient is prescribed will depend on their medical history and the specific FFS procedures they had done. Sometimes an additional steroid medication will be given to help reduce pain and swelling. Patients are instructed to sleep with their head elevated during this time period and will wear a supportive garment around their head and chin.

2 to 6 Weeks Following Surgery

Bones and tissue begin to heal during this timeframe. Rest and aftercare are extremely important to help promote proper healing and recovery. Scarring will first become red or raised and then start to flatten. Numbness may start slowly improving. Dissolvable sutures will fall out during these weeks.
The type of procedure performed and the location of the procedure will affect the length of recovery time. Facial feminization surgery can take place in a single phase, or it can take place over the course of multiple phases and procedures. Surgeries that involve the upper parts of the face and those involving the lower face typically occur in multi-phases - these require a longer period of time to heal.
During your consultation with Dr. Bastidas, he will answer any questions you might have regarding your procedure and aesthetic goals, as well as provide you with details regarding your recovery.
How Much Does Facial Feminization Cost?
The total cost for facial feminization surgery in NYC depends on the number of procedures needed and the types of aesthetic changes being made. Dr. Bastidas does work with insurance companies, including Amida Care, BCBS, and several others to help reduce or eliminate the external costs of feminization face surgery.
Facial Feminization Surgery with Dr. Bastidas
Dr. Bastidas is a leading surgeon of Facial Feminization Surgery and has been performing craniofacial procedures for more than a decade. He is an active member of the Center for Transgender Care at Northwell Health and incorporates the latest 3D virtual planning technology into every procedure. Dr. Bastidas is also a board-certified plastic surgeon who is fellowship-trained in craniofacial surgery and the Director of the Advanced Facial Trauma and Reconstruction Program at North Shore, Manhasset.
His years of experience result in a multi-disciplinary approach with an aesthetically pleasing feminine appearance that looks natural.