Pediatric Craniofacial Surgeon Procedures & Treatment
Children deserve to be children. As your child's pediatric plastic surgeon team, our goal is to provide them with normal craniofacial function and appearance, so that they can live a high quality of life. Our unparalleled level of expertise and advanced approach to reconstructive surgery minimizes time in the hospital and helps your child return to living their life.
Dr. Nicholas Bastidas provides corrective surgery for congenital abnormalities (birth defects), tumors, and traumatic defects, as well as craniofacial deformities which can be caused by disease, injury, or congenital disorders. He is a fellowship-trained pediatric plastic surgeon practicing in Long Island and New York City, and can treat all matters of problems from simple to complex, from head to toe.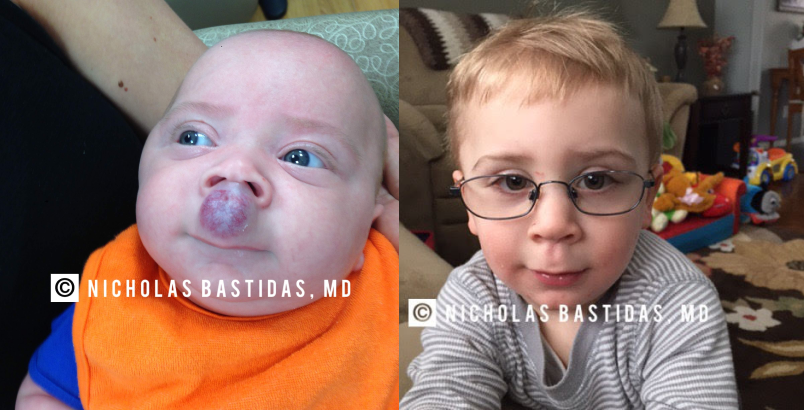 Pediatric Treatment Procedures
Treatment for your child's craniofacial condition will depend on the specific condition, severity of the condition, and is unique to your child's needs. Dr. Nicholas Bastidas uses state-of-the-art technology to ensure he provides your child with the best outcome so that they can live a healthy life.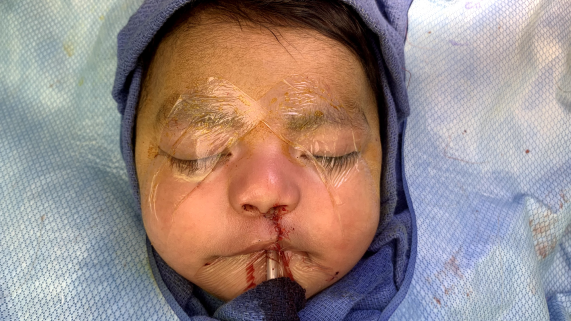 Case Studies
Case 1:
Pierre Robin Sequence
This newborn was born with a small jaw (micrognathia) which caused her tongue to be sitting back far in her mouth, affecting her ability to breathe (a problem known as Pierre Robin Sequence). At 10 days old, Dr. Bastidas was able to correct her jaw and breathing issues by lengthening her mandible using a technique known as mandibular distraction. A titanium device is placed on the mandible and slowly turned to lengthen the jaw bone 1mm/day. She is now home with her family and thriving.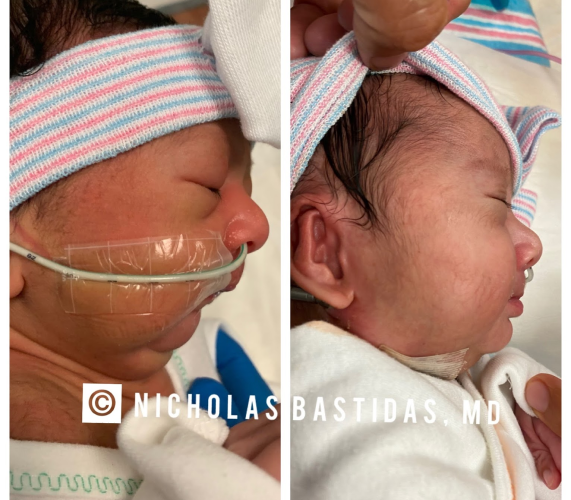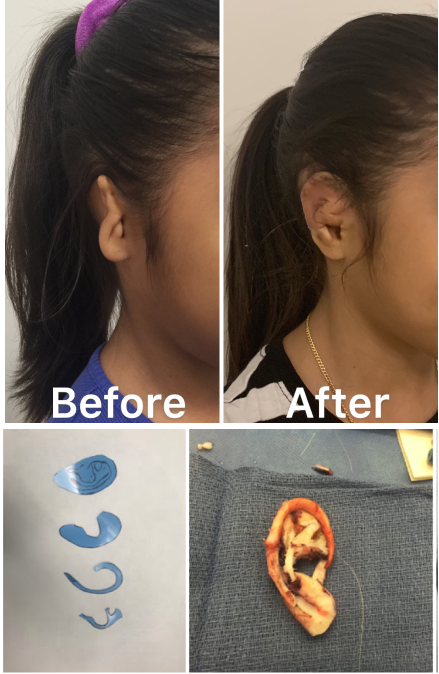 Case 2:
Microtia Rib Ear Reconstruction
This young lady was born with a small, malformed ear (a condition known as microtia). Dr. Bastidas was able to reconstruct a new ear for her using her rib cartilage. She is now able to wear her hair up without being self-conscious. Rib cartilage reconstruction of ear deformities is usually performed around the ages of 8 to 10 years old.
Case 3:
3D Cranial Vault Reconstruction
Using the latest in 3D Computer-Aided Engineering, Dr. Bastidas is able to perform reconstruction of the cranial vault for children with craniosynostosis to anatomic precision within 1mm. This child had Metopic Synostosis (a pointy, compressed forehead) that we were able to correct using 3D planning and modeling, enabling us to design anatomic bone grafts to completely reconstruct the forehead using bone from the back of the head. This relieves pressure on the brain as well as improves the shape and position of the forehead.

Dr. Bastidas's Expertise in Pediatric Plastic & Reconstructive Surgeries
Dr. Nicholas Bastidas' goal as a Pediatric Craniofacial Surgeon is to provide the best long-term outcomes for your child. His experienced, gentle approach attempts to correct your child's conditions and ensure your child has the best chance to live a healthy, happy life. Dr. Bastidas is a Board Certified Plastic and Reconstructive Surgeon who specializes in the treatment of pediatric craniofacial abnormalities. He is a native New Yorker and is fluent in both English and conversational Spanish. As a graduate of the prestigious New York University (NYU) Medical School, he received his Medical Doctorate (M.D.) with distinguished honors in cell biology research after defending a thesis on vascular stem cell biology. He was then accepted into the NYU combined Plastic Surgery program (an accelerated six-year residency) where he performed reconstructive and aesthetic surgery at NYU Langone Medical Center, Bellevue Hospital, and Manhattan Eye and Ear Infirmary. He then went on to complete an additional year of subspecialty training (fellowship) in Craniofacial and Cleft Surgery at the Children's Hospital of Philadelphia and Hospital of the University of Pennsylvania.
A Leading Pediatric Craniofacial Surgeon
As a leading pediatric craniofacial surgeon, Dr. Bastidas understands the importance of treating the whole child, rather than just the symptom or condition. Afterall, craniofacial surgery and treatment in children is delicate and can be complex. Dr. Bastidas treats thousands of children each year who are suffering from abnormalities of the head, face, and hands. Under the care of his team, your child will gain an improved appearance and function. Both you and your child will be guided throughout the entire process - From the evaluation, to treatment, and any ongoing therapies or procedures that are needed at later dates. To date, Dr. Bastidas is the recipient of four research grants, including one from the National Institute of Health. He is the author of over 31 peer-reviewed publications and has presented his research at national and regional plastic surgery meetings. Additionally, Dr. Bastidas is a volunteer surgeon with the international organizations, Operation Smile and Smile Train, and has attended several surgical missions providing craniofacial surgery and cleft surgery to impoverished children and adults.