It's natural for our face to change shape as we age. Skin becomes loose and sagging, bones lose their mass, and muscles lose their strength as a result of time spent living life. Most people begin to notice a shift in the appearance of their face around their 40's and 50's, with some also noticing a change in their 30's. But with these physical changes brought on by aging also comes a change in the appearance of our face - Luckily, there is treatment available. In this article, we'll explain how your face can change shape as you get older, and provide information on the procedures available to help you have the appearance you desire.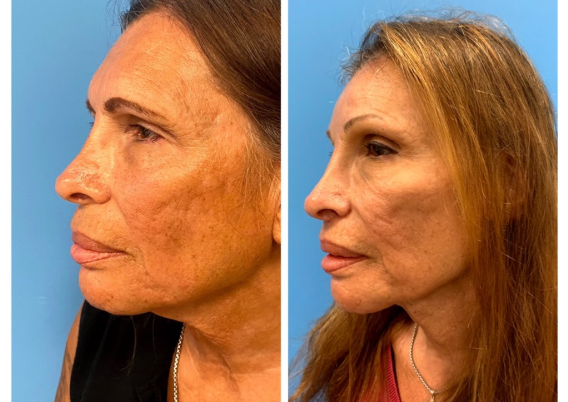 Areas of the Face That Change As We Age
The following facial features are a few of the common places where the effects of aging take place:
Eyes

The eyes are one of the most common places we tend to notice our age. Specifically, the eyelids become very thin overtime and begin to heavily sag.

Cheeks

Cheeks become loose the older we get, giving them the appearance of being flat.

Lips

Lips lose their definition as we age, causing them to appear thin. Smoking and exposure to the sun without sunscreen can sometimes cause individuals to see these aging effects as early as 30-years-old.

Chin

A double chin can form as early as our 40's as a result of fat from the above features in the face moving downward.

Nose

Our nasal cartilage can weaken overtime, causing the edges of the nose to close inward, as well as causing the tip of our nose to tilt downwards.
Slow Down Aging with Facial Feminization Surgery
Facial Feminization Surgery can help restore the effects of aging on your facial features, helping you look more naturally youthful. Facial Feminization Surgery is a series of procedures that make cosmetic modifications to your facial appearance. Also known as FFS, the goal is to create and sculpt masculine facial features into a feminine face shape, helping patients feel empowered and more confident with their appearance.
While FFS is most often used by transgender women, the procedures are also popular among non-binary individuals and cisgender women.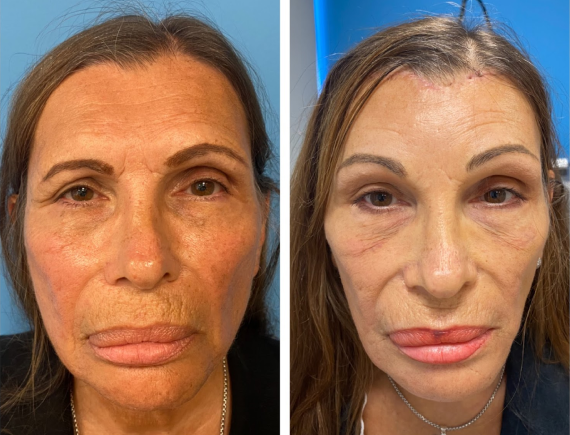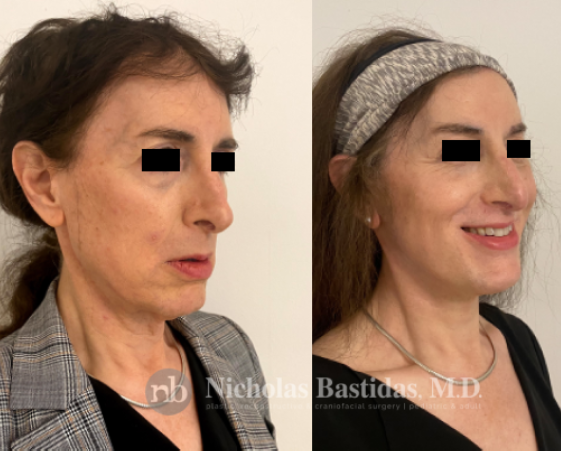 What is Done in Facial Feminization Surgery?
There are several areas that can be sculpted in Facial Feminization Surgery to help give your face more feminine features. The below are a few examples of the areas that can be targeted to achieve a feminine appearance:
Lip Lift and Lip Filling
Rhinoplasty (Nasal Surgery)
Brow Lift (Browplasty)
Cheek Enhancement (Augmentation & Reduction)
Chin Recontouring (Genioplasty)
Feminizing Earlobe Reduction
Forehead Reduction and Contouring Surgery
Hairline Lowering Surgery
Jaw Contouring (Reshaping or Tapering)
Adam's Apple Reduction (Tracheal Shave)
To learn more about the specific FFS procedures available to you, please contact us.
Facial Feminization Surgery with Dr. Bastidas
Dr. Bastidas is a leading surgeon of Facial Feminization Surgery in NYC and has been performing FFS procedures for more than a decade. He is an active member of the Center for Transgender Care at Northwell Health and incorporates the latest 3D virtual planning technology into every procedure. Dr. Bastidas is also a board-certified plastic surgeon who is fellowship-trained in craniofacial surgery and the Director of the Advanced Facial Trauma and Reconstruction Program at North Shore, Manhasset.
His years of experience result in a multi-disciplinary approach with an aesthetically pleasing feminine appearance that looks natural.
For facial feminization surgery, call Dr. Nicholas Bastidas.
Schedule an appointment at our
New York, NY, office at (212) 485-0616.