Cleft Lip Surgery and Cleft Palate Surgery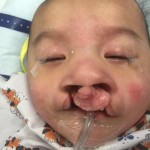 Cleft Lip and cleft palate surgery are procedures performed on infants by Dr. Nicholas Bastidas, a specialist in pediatric plastic and reconstructive surgery. Finding the right surgeon to perform this procedure on your infant is the critical first step toward correcting this condition and when you select Dr. Bastidas, you can rest assured that your baby will be receiving the best care possible. His outstanding credentials, coupled with his commitment to improving the lives of children and adults with visible deformities, will place your baby in the best hands.
When you select Dr. Bastidas to perform cleft lip surgery, you can take comfort in knowing that this is a surgical procedure that Dr. Bastidas does with great frequency. His depth of experience with this procedure positions him well for dealing with the particulars of your baby's condition. Dr. Bastidas is part of a team of specialty doctors, a Center of Excellence for Cleft Lip and Palate, with a team of specialists delivering safe, high quality, state-of-the-art solutions for cleft lip and palate. Dr. Bastidas is passionate about cleft lip repair and offers lip repair and lip revisions for those patients who have had a suboptimal repair.
The performance of cleft lip and palate surgery is critical. If left untreated, a baby is subject to serious problems with development, growth, feeding, hearing, speech, physical appearance and ear infections. Cleft lip surgery is usually performed when your baby is three to four months old. We are sensitive to your concerns about a medical procedure being performed on your baby at such a young age and we will work with you to help you understand the cleft lip surgery, the pre-surgery protocol, your baby's hospitalization and care once you bring your baby back home. A cleft lip repair takes about two hours and is a same day surgery (you can take your child home that day).
A baby that has cleft palate surgery will stay in the hospital overnight and the complete recovery from surgery takes one to two weeks. This surgery is usually coupled with ear tubes to help prevent fluid from accumulating in the ear drum. After care at home includes keeping the wound clean and feeding your baby only liquid food or soft foods. Your anxiety is completely understandable and we will do all we can to allay your concerns.
A cleft lip and/or cleft palate is often detected during a 20th week prenatal ultrasound. When this is diagnosed, it gives parents time to prepare, to get to know the team that will be performing cleft lip and palate surgery and for all to draw a plan of action. Soon after your baby's birth, the baby will be examined by our team and you will be given education on proper feeding technique and supplies will be provided. Our cleft coordinator will guide you through the process and arrange ancillary services for you and your child. You will be provided with special feeding bottles and trained how to properly feed your baby before you take her home.
A week or two after you take your baby home, our dental specialist will often provide a nasoalveolar molding (NAM), similar to a retainer with an extension that sits on the nose to help better shape it. The NAM is worn until the time of cleft lip surgery and is modified throughout this time frame. The use of NAM is an innovation that has made significant improvement in outcomes of cleft lip surgery. Often we will tape your baby's lip to help decrease the gap between the two segments of the lip. Due to the unpredictability of facial growth, it is possible that your child may need minor revisions (particularly to the nose) when he or she is older and our team is prepared to work with you through this entire process of healing.
The cleft team is a multi-disciplinary team of doctors and caregivers who meet monthly to evaluate and discuss patients as a whole group. Facial growth, speech, and dental rehabilitation are often discussed and treatment plans designed. After the age of 2, a yearly team exam is typically offered.
Dr. Nicholas Bastidas is associated with Northwell Health and has conveniently located offices in Manhattan and Long Island. Visit Dr. Bastidas' websites at www.cleftny.com and www.ippcs.com for detailed information on cleft lip surgery and the offices of Dr. Bastidas. Dr. Bastidas prides himself on strong communication skills with his patients so that his patients are fully informed on what to expect. We understand the challenge of selecting the right surgeon to perform cleft lip and palate surgery and we look forward to helping you with this process.