Hemangioma Surgery
Because the practice of Dr. Nicholas Bastidas includes care to both pediatric and adult patients, Dr. Bastidas' background is second-to-none. Dr. Bastidas' excellent training has prepared him performing plastic surgeries ranging from the most simple to the most complex. Hemangioma surgery is one of the more common pediatric plastic surgeries performed by Dr. Bastidas.
A hemangioma is formed by a stack of blood vessels either on the surface of skin or just under the skin surface. It can be present at birth or appear shortly after birth and growth in the first several months of life can be rapid. In most cases, hemangiomas appear on the face and neck and present in a wide range of colors, shapes and sizes. Dr. Bastidas is a firm believer that hemangioma surgery or treatment should be performed. While a hemangioma is not cancerous, its growth is physically unattractive and surgical removal or appropriate treatment will eliminate this. Beyond cosmetic improvement, a hemangioma can go very deep into bones and muscles and its location may also cause complications with pain, bleeding, vision, eating or breathing, thus necessitating hemangioma surgery.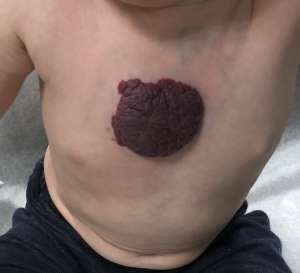 There are several types of hemangiomas:
Capillary – This type is comprised of stacks of tiny capillaries.
Cavernous – This type contains slightly larger and widened blood vessels.
Compound - These are a combination of capillary and cavernous blood vessels.
Lobular Capillary – These appear as tiny red bumps on arms, face and hands.
Depending upon the type of hemangioma, Dr. Bastidas will recommend surgical or nonsurgical solutions, based upon the specifics of a patient's hemangioma. Hemangioma surgery is recommended for cavernous hemangioma when it is impacting surrounding healthy, normal tissue around it. Hemangioma surgery involves excision of the hemangioma under general anesthesia. Healing will take 2-3 weeks and wound care is important during recovery. If a hemangioma is too large to be removed in a single surgery without causing distortion, Dr. Bastidas can perform hemangioma surgery in stages for more gradual and satisfactory results.
Nonsurgical solutions include timely observation, specific anti-inflammatory medications, compressions and embolization to terminate blood supply to the hemangioma. Medical treatment may also include the use of Propanolol, a medication initially used to treat a cardiac condition but coincidentally found to reduce the size of hemangiomas in areas where surgery is not optimal. Propanolol is now considered to be the gold standard in treating complicated hemangiomas. Hospitalization of the patient is necessary when Propanolol is being administered in order for the patient to be watchfully monitored.
You will find that the team assembled by Dr. Bastidas will provide your treatment with professionalism and will maximize your results. Dr. Bastidas is a founder of the Institute of Pediatric Plastic and Craniofacial Surgery and participates with a group of specialty doctors in a Center of Excellence for Cysts, Birthmarks and Tumors. This team of specialists delivers safe, high quality, state-of-the-art solutions. Members of the team are available to each other for consultations and planning when a case involves a complexity of issues, providing the patient with an excellent team of resources to find a solution to meet their specific needs. Visit Dr. Bastidas' website at www.DrBastidas.com and www.ippcs.org to learn more about hemangiomas, surgery and other nonsurgical treatments.