Microtia Surgery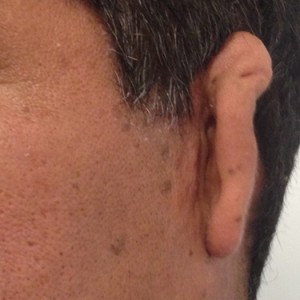 There are times when babies are born with a small or partially formed ear, a medical condition referred to as Microtia. There are cases in which this is an isolated incident for a baby and there are other situations in which this is part of a spectrum of hemifacial microsomia which can include other medical problems. If you have given birth to a baby with one of these conditions, Dr. Nicholas Bastidas is a pediatric plastic surgeon who can help you through this period of diagnosis and decision making. His outstanding credentials, coupled with his commitment to improving the lives of children and adults with visible deformities, will place your child in the best hands for microtia surgery. Dr. Bastidas is a regional expert in microtia reconstruction, having trained from some of the pioneers and best known worldwide.
There are two main type of microtia ear reconstruction: implant and cartilage based. Each offers certain advantages and disadvantages. Both offer excellent results, and the decision is often based on patient preference as well as medical history.
The implant based, or medpor ear reconstruction, uses a synthetic type of plastic which is shaped into a fully grown ear and implanted underneath the skin to mirror the unaffected ear. The medpor implant is covered by tissue from the scalp called a TPF flap and skin grafts from the opposite ear and groin. These scars are all well hidden and can offer an excellent aesthetic result with a quick recovery. This reconstruction can be performed as early as 3 yrs old and can be safely performed as an outpatient. Many believe reconstructing the ear early can help with your child's psyche and personal development. The microtia surgery can also be combined with a bone anchored hearing aid (BAHA) to help augment the hearing, as many patient with microtia do not have a well formed ear canal and middle ear. Often a complete reconstruction can be accomplished in a single operation and many patients report feeling little to no pain.
Rib cartilage is an alternative and more traditional solution that can be performed when the child has sufficient cartilage for the reconstruction (age 8-10yrs old). Rib cartilage is still the gold standard for microtia, because it is infection-resistant and has great strength and durability. The creation of the ear from cartilage is akin to creating a work of art and medicine. Dr. Bastidas' reputation for excellence in microtia surgery is well known. Microtia surgery involves the sculpting of the new ear construct and surgical placement under the child's skin for approximately four to six months. The patient is admitted for at least 1-2 days for observation during immediate recovery. After this first stage the details of the ear are visible however, the ear is flat against the scalp. At a second operation, the sculpted ear is lifted and grafted to create the normal projection of an ear. The second operation is performed as an outpatient and offers a quick recovery.
Microtia surgery addresses both external ear deformity and middle ear canal deficiency. The construction of the ear is complicated and you can be confident that the depth of experience of Dr. Bastidas and his team with microtia surgery will bring your child the results you are seeking.
While synthetic prosthetic ears are available, they are prone to falling off and/or damage. They are expensive and need to be replaced every few years. Prosthetics are typically preferred for older adults.
The selection of a pediatric plastic surgeon for microtia surgery is a challenging decision for parents and you will find that Dr. Nicholas Bastidas and his staff will help you to understand the procedure and treat you with professionalism and compassion. Their goal of delivering safe, high quality medical care will always be foremost in their work. Dr. Bastidas is part of a team of specialty doctors, a Center of Excellence for Hemifacial Microsomia and Ear Deformities, with a team of specialists delivering state-of-the-art solutions. Visit Dr. Bastidas' website at www.DrBastidas.com and www.ippcs.org for more information on microtia, its treatment and how we can partner together on the right solution for your child.